Chaturbate, the most popular webcam platform in the camming industry, announced a creativity contest with the theme halloween to motivate your models. The Halloween contest offers up to $ 1,000 in prizes for the best costume. Chaturbate plans to select two winners per week and each will receive $ 500. Those selected for the award they will be notified by a private message from the platform. All models that broadcast on Chaturbate are invited to compete and bring out their most creative side.
How to participate in the contest
During the ENTRY PERIOD, you can enter by performing these steps:
(1) Take a photograph in your Halloween costume;
(2) Post the photo on Instagram and/or Twitter using the hashtag #ChaturbateHalloween in your caption, and
(3) Broadcast on Chaturbate wearing the Halloween costume depicted in the photo.
One photo per entry. You may post on both Instagram and Twitter, but only one entry will be counted per day. Enter as many days as you like during the Entry Period.
You can choose the classic costumes that always triumph: clowns, witches, zombies, vampires, demons, skeletons, werewolves, ghosts, pumpkins … or let your imagination run wild creating totally original costumes.
Other costumes that always turn heads are those inspired by movies. Movies are a great source of inspiration for dressing up for Halloween. The protagonists of the films, those mythical characters that we directly relate to certain stories, can be our ideal costume for this Halloween 2020.
The contest already has 4 winners:
1 week: @catjiratv and @tricky_nymph!
2 week: @vavilova_miss and @PasscualRachael!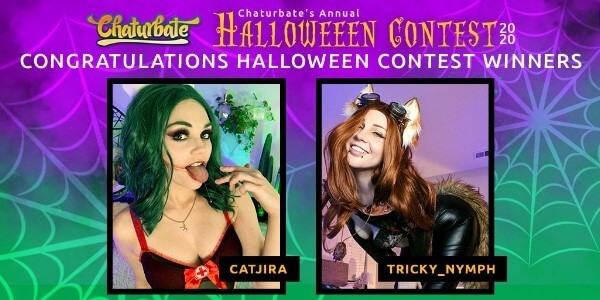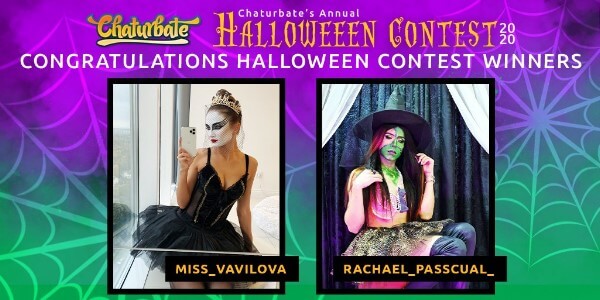 Halloween designs for your profile.
So that your profile reflects this party, we recommend using one of the designs that we have created especially for this occasion.
Important elements to decorate your room on Halloween:
While the below is NOT directly related to the contest, it can help you get more tokens from your tippers.
Lighting: it is one of the most important elements. Play with the light in your room, use colors like red, purple or orange.
The pumpkins that cannot be missed. They are the quintessential Halloween icon.
Black figurines in the shape of spiders, cats or bat. For example you can make the spiders yourself with containers made of plastic covered with black paper and the legs can be the floats known as pool noodles.
Artificial cobwebs. In the party outlet you can find synthetic yarn bags in the shape of cobwebs. Or you can opt for the white rubber sprays that will help you disperse that material throughout your room.