If you are starting to broadcast on Chaturbate, you should know the important use of tags or hashtag that would help you attract more users.
---
In case you don't have time to read the entire article, these are our recommendations:
Use hashtags
Choose your labels well (the ones that best suit your show)
Use only English labels
You can put a maximum of 5 hashtags
---
To earn more on Chaturbate, you must be on the first page, or make users find EXACTLY what they like the most … In the second part the labels come into use. Imagine that a user likes BDSM a lot, therefore this particular user does not care much if the model is young, pretty or has big breasts, the most important thing for him (and for what he is willing to pay) it is a good show that contains some concrete elements of BDSM.
First you have to know exactly what are Chaturbate hashtags?
The term "hashtag" became popular with the appearance of Twitter and is used to quickly identify a specific topic. Chaturbate adopted the use of these tags to identify the shows that the models claim to perform in public or private.
We can classify the labels in at least four categories and we must use the ones that are in our favor.
1 – Descriptive labels: they are the ones that simply describe us best: #teen (young) #bigboobs (big tits) #skiny (thin) …
2 – Location or origin labels: if we consider an advantage, we can use labels such as: #latina #colombia #europe #asian …
3 – Tags that define the type of show you do: #squirt #feet #anal #bdsm #deepthroat #lesbian …
4 – Labels remembering the toys you have or the types of games you have activated. Toys like: #lovense #ohmibod #lush – and games (apps) that have become very popular with users like: tokenkeno #Roll The Dice #CrazyTicket
ATTENTION: currently a maximum of 5 labels can be used at the same time. For this reason, we must choose carefully which ones we are going to use.
If you add more tags, they won't appear in the Chaturbate tag finder.
To be as clear as possible, let's see some examples:
If you are Colombian, you are 20 years old, you are thin and you perform a fetish show, you could put: teen #skiny #latina #heels #latex
or… fetish #toes #dildo #feet #bigboobs
The above is just a general idea. What works well for some is fatal for others, therefore you have to try day by day until you find what works best for you.
ATTENTION !: it is recommended to write the labels in English.
Most of the users who connect (those who PAY) are from different countries and speak different languages, so it is recommended to write the labels in the language that is most used internationally, which is English.
TUTORIAL: How to set tags on Chaturbate?
First click on "Show yourself", then click on the name of your room that you find right above your camera.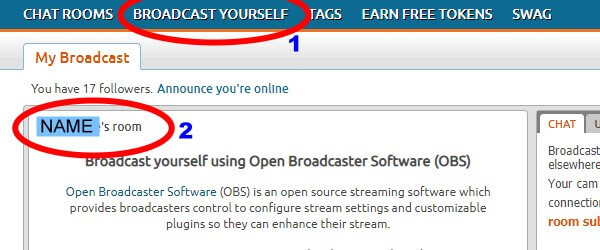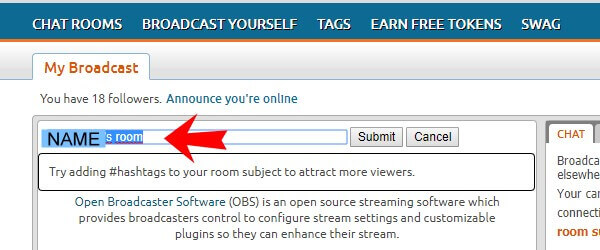 Start writing the labels in the box that appears, start by putting the hastag symbol "#" and at the end of each label put a space. At the end save the changes by clicking "Submit"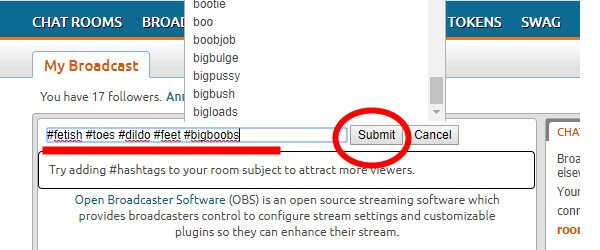 If you try to put more than 5 labels, a warning box will appear.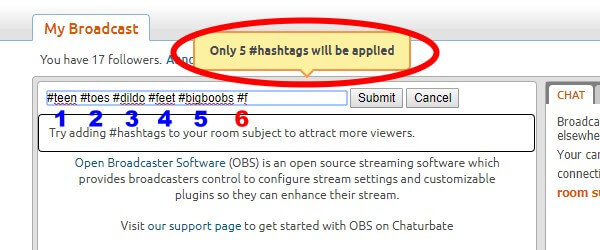 After saving, you will see that the subject of your room has changed and our labels. This means that everything is correct.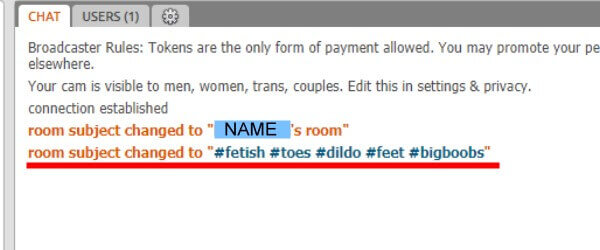 Are labels useful?
Yes, your room will appear in the Chaturbate tag search engine when a user searches for models according to their tastes or fetishes.
Find models on chaturbate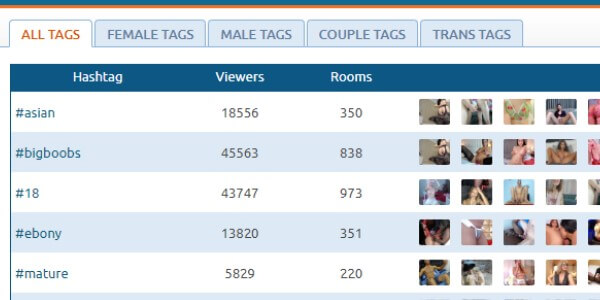 Why do the labels change every time they send me tokens?
This is because you use some app or bot that has an option to set the labels. If you are going to use this application or bot mostly, I recommend placing the labels directly from the application or bot options.
I hope this article has helped you to configure your video chat room better and faster.