Best Chaturbate Apps – As you know, Chaturbate uses an innovative system of apps and bots to customize various functions of your channel. With the apps you can manage different aspects of your channel, such as setting the token target before you take a specific action, playing games like Keno or selling tickets for a later private show.
The bots serve to automate certain tasks that would be annoying to do, such as throwing reminders to your users every x minutes, remembering the rules of your room to viewers or seeing which users have left you the most money, in a sort of ranking.
What are the best apps and bots
Let's take a look at what are the best apps and bots for Chaturbate. First go to "Broadcast Yourself" and then to the "Apps & Bots" tab. The best bots or at least, with which you get the most profits are those that have a green color in the corner. Let's take a look at the "Crazyticket" App that has one of the best ratings.
Crazy Ticket App: Help Tutorial
The Crazy Ticket App, serves to "sell" tickets for a hidden or private camera show that you make later. That is, you start broadcasting in public chat, and announce that if enough tickets or tickets are sold, everyone who has bought their pass will see the private show and those who do not, will be left out.
Once you have clicked on the Crazyticket App, you will see a screen like this. Click on the "Launch App" tab to see the configuration options. You will see a screen like this:
Token Goal (Optional): The number of tokens for your goal in public chat. It is optional and you do not need to fill it out.
Show Description: It is optional too. It is the description of your private show. You can put what you will do on it.
Ticket price: Quantity in tokens to get the ticket for your hidden camera show. Remember that 100 tokens are 5 dollars, do not upload much from there unless you are a Chaturbate super star. Over time you will learn to correctly choose the price of your hidden shows.
NEW Ticket price for fans: It is a new feature, and allows you to set a cheaper price for those who belong to your fan club. Leave it blank if you want them to pay the price set in the previous option (Ticket price).
Hide tip total from viewers: If you want to hide the total amount of tokens won, activate this option. Yes to hide it, Not to make it visible.
Show the no. of ticket holders actually in the room: Shows the number of people who bought a ticket for your hidden show. You can show it (Yes) or hide it (No).
The following 2 options are not important, we turn to Allow moderators to add / delete users: If you want any moderator of yours (someone you have given permission to moderate users for you) have permission to add or remove users for your show hidden.
Allow moderators to change the ticket price for you: Allow moderators to change the price of tickets for the hidden show. Yes or no.
Automatically give mods a ticket when they enter the room: Give moderators a ticket automatically when they enter your public room.
Automatically give fanclub members a ticket when they enter: Give your fanclub members a ticket for the hidden show once they enter the public chat, that is, before the hidden show begins.
Start App: With that orange button you put the App into operation.
Best bots for Chaturbate
Let's focus on the best bots for Chaturbate, the ones most used by webcam girls and boys. Remember that to choose a bot, you have to click on "Transmit yourself" or "Broadcast yourself" depending on what language you have on the Chaturbate website. – Best Chaturbate Apps
Under the chat window, you will see several tabs, one of them says "Apps & Bots" and you will see that you can choose an app and up to 3 bots. You will see that it says "Bot # 1" and on the right "Choose a bot" which becomes "Choose a bot". Click on that link and the list of available bots will open.
There you will see a list with each bot represented by a rectangle. In the upper right corner of each box, there is a number wrapped in green, yellow or red. The green ones are the best bots, since that number indicates how many tokens per hour they have earned using it by counting all Chaturbate issuers.
To see what each bot does, you must click on its name, and you will see a short English description of its functions. If you use the Internet browser, Google Chrome, you can do a translation if you right-click and click on "Translate to Spanish".
On that same screen you can access the configuration and launch of the bot. Click on "Launch Bot" and choose the options you prefer.
Bot Shut it: Practical example
For example, the "Shut it" bot, one of the best rated, serves to automatically remove from the chat those words that users type and do not want to appear. They can be insults or other words.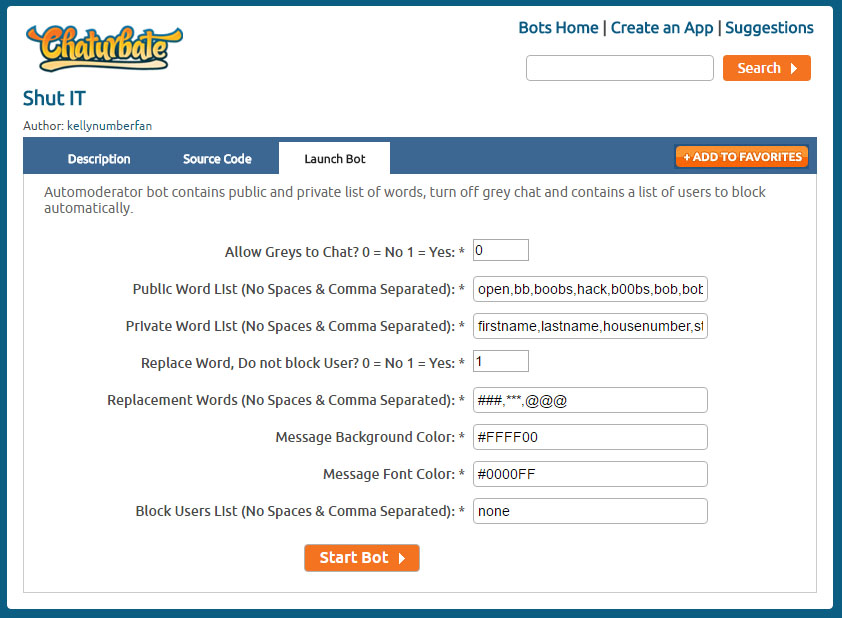 The options are as follows:
Allow Grays to Chat? 0 = No 1 = Yes: This option allows gray users to speak or not, that is, those who have no money or are not registered. If you put a 0 (zero) in the box, they will not be allowed to write. If you put a 1, yes.
Public Word List (No Spaces & Comma Separated): This option is your list of public words that you don't want to appear. You must write them in the box on the right, without spaces and separated by commas.
Private Word List: Same as above, but for private shows.
Replace Word, Do not block user: Specify if you want to block the user who has written a word prohibited by you. If you put a zero in the box you allow it to remain present. If you put a 1, you block it.
Replacement Words: Specify what you want to appear instead of a prohibited word. In the example in the image above, strange symbols and characters appear. You can do the same as putting *. Similarly, you should put them without spaces and separated by commas only. – Best Chaturbate Apps
Message background color: Background color of the messages. The color is chosen in HTML format and has an associated code that is what you should write in the box. Visit this page http://www.w3schools.com/colors/colors_picker.asp to see the color codes that interest you and write them in the box.
Message Font Color: The same but for the font color (the text).
Block users list: List of blocked users, separated by commas and without spaces. If there is a particular user that you want to block from the chat, write their name in the box.
If you don't have an account yet, you can create one here: