In addition to making money from video chat, Chaturbate models can also earn money selling videos and photo galleries, through their premium fan club membership.
To access exclusive content, users must pay a monthly subscription fee. Your fanclub members will also stand out in the chat rooms with their name (nikname) in green letters instead of the standard color, allowing you to give them more attention.
How to enable the fan club in chaturbate?
To open your fan club, go to the "My Profile" page and click on "Settings & Privacy".

Once you are in "Settings and privacy" find "Fan club settings" and you can now select the price you want to charge users to become subscribers.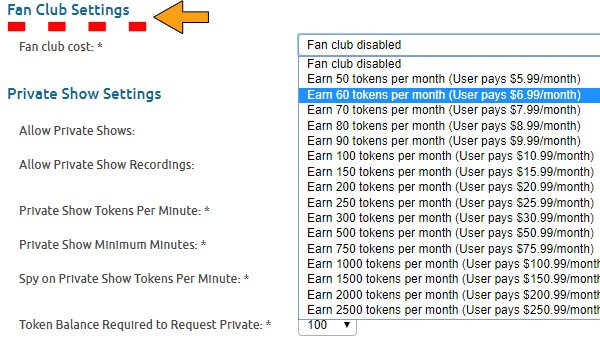 Grant access to published content for your fans.
To publish your photos and videos, you must go to the "Bio" tab and below, in "Pics & Videos" you must click on upload (photos or videos). With this action, a new window opens.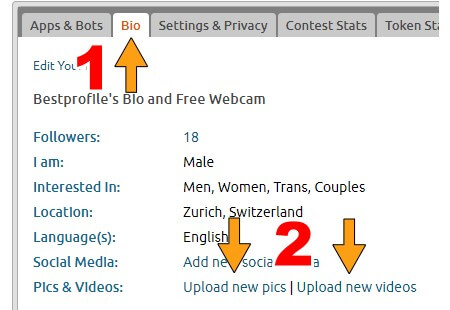 When you upload videos or photos to Chaturbate, there are several options you can choose from: whether your videos are free, for fan club members and for those who buy, or for sale only.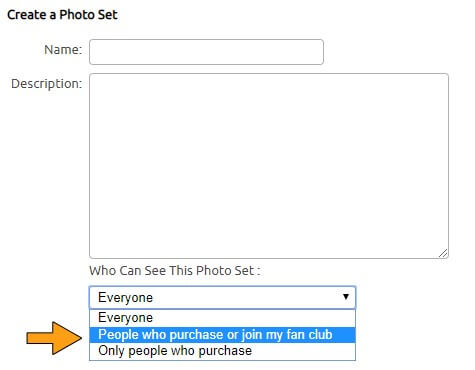 Here are all the options:
Everyone: Your photos or videos are available for free to everyone.
People who purchase or join my fan club: The photo or video collection is free for fan club members. Those who are NOT members of the club can pay with tokens to access the content.
Only people who purchase: All users, including fan club members, must pay in tokens to view your photos or videos.
Once you set the rate for your fan club and you have already uploaded videos and photos, it is recommended to update your profile (bio) and describe the benefits of being your fan.
Example of a short list of benefits:
1 – Access to my multimedia content.
2 – Your nickname will appear in green in my room.
3 – Possibility of sending private messages "PM".
4 – Special show once a month only for members of my fan club.
If you offer special attention to the members of your club this will work in your favor to receiving more tokens during your transmission. So your fans will be happy and your group will grow.
DON'T forget to update your content. It is necessary to upload images and videos frequently so in this way your fans are encouraged to continue subscribing, in addition to attracting new ones.
---
Sign up for Chaturbate
Ready to get started as a Chaturbate model? Sign up today! Chaturbate is a leading cam site with great traffic, percentages, and features. Besides the camera, she also makes money from content sales and fanclubs. Plus, take advantage of apps and bots, fully customizable profiles, and much more. Chaturbate accepts all genders, including couples and groups, and the registration process is quick and easy.