In this article we will talk about the main things you should know and do before starting to transmit.
Define which Device you will use to transmit
The normal and recommended thing is to use a computer + a good webcam + a wireless keyboard.
But as you should already know, in Chaturbate you can use different devices to make your transmission. You can use your Smartphone, Computer with Webcam or Tablet. If you have a computer but you don't have a webcam, you can use your smartphone and your computer at the same time; your smartphone to transmit and your computer to chat. However, you must define what you will use from the beginning, since each device transmits differently.
Transmit in Chaturbate with Mobile Phone and Computer
In the event that you want to transmit with your computer and mobile phone at the same time, you will have to follow the following steps.
Sign in to chaturbate through your mobile from m.chaturbate.com
Start transmitting from your mobile
Once you are transmitting from your mobile, log in to Chaturbate through your Computer.
On your computer, see the "Show yourself" part as if you were going to transmit from there, but DO NOT start transmitting (since you transmit from your mobile).
Once you are in your room through the PC there is nothing else to do! You can chat through your computer without problems and use your mobile as a webcam at the same time!
How to transmit in Chaturbate with 2 Mobile Phones?
This is what you have to do in case you want to transmit with 2 phones:
Sign in to chaturbate through your mobile.
Start transmitting from your mobile
Now you will enter chaturbate on your other mobile and you will log in as in step 1.
Click on the menu and at the bottom, select the Desktop Site option.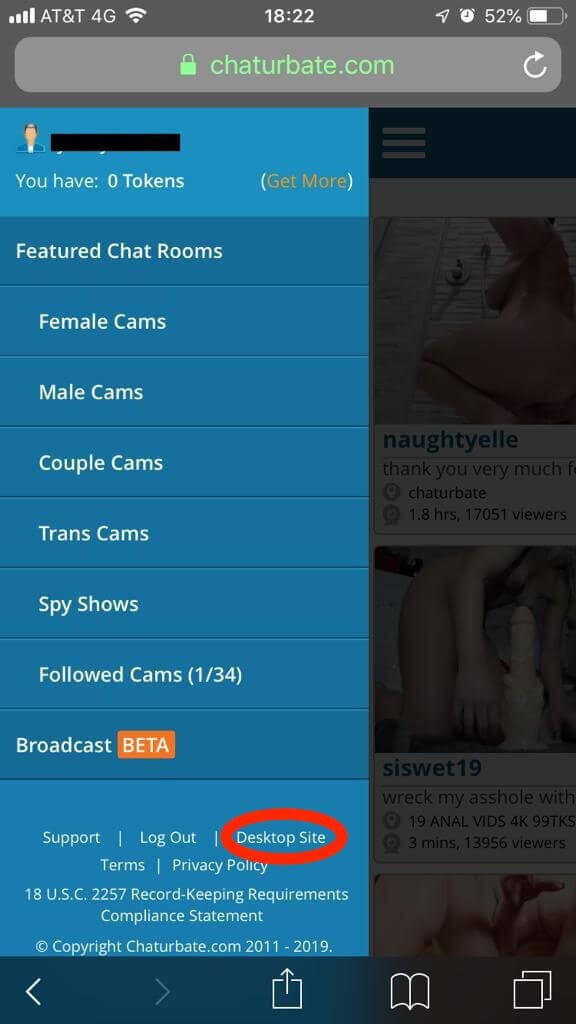 Then just go to the "show yourself" part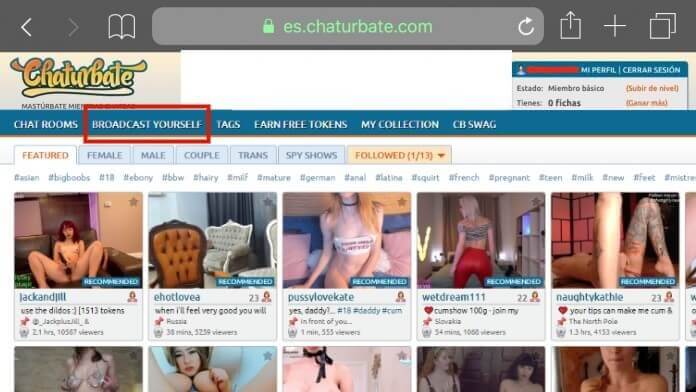 Once you are in your room through the second smartphone there is nothing else to do! You can chat through your mobile without problems and use the other as a webcam at the same time!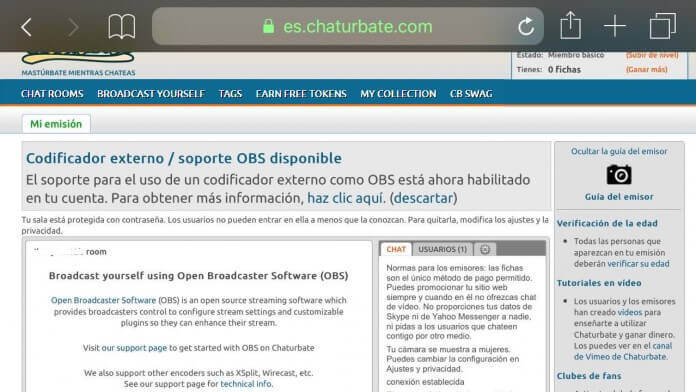 Remember that we always recommend transmitting with a Computer and Webcam, since doing it from your mobile can be somewhat uncomfortable and there are usually errors with the image. So if you can invest in buying a webcam much better
Prepare Chaturbate Apps and Bots for your Transmission
Once you have decided what device (s) you are going to transmit, it is time for you to decide which App and Bots you will use for your show. As you should already know, your broadcasts must have some main theme or attraction so that you can direct your show to a specific niche and thus attract more users and therefore generate more money. Chaturbate Bots and Apps will help you direct your show effectively where you want.
We already have an article dedicated to explaining how to configure Chaturbate Apps and Bots, however we will give you some tips and recommendations on the best to start.
If you do not want to complicate your life much, this App will be very useful since it is very simple to configure and will help you set a goal for your room. This App allows you to establish a Goal (the translation would be Meta) and a number of tokens that must be achieved for the goal to be met.
For example, a goal that you could set would be "Take Clothes Off at Goal" 500 tokens, (to take off your clothes for 500 tokens) is to say that when you manage to get 500 tokens, the goal will be met and you will have to take off your clothes.
In this way, users will know that there is a goal that you want to reach and they will be more encouraged to give you tokens, in addition, it encourages more users to give you tips since they can all achieve a larger number of tokens and thus achieve the goal more. Quick.
Remember that this type of Apps what changes is the title of the room so you will not be able to change it while the app is running, so make sure to write everything you want in the Goal so that it is written in the room title correctly .
How to configure Tip Goal App in Chaturbate
This App is very similar to the previous one, it is practically the same idea but in this you can configure more than 1 Goal. It is very useful if you do not want to be changing the Goals every time they are met.
This Chaturbate App will help you a lot if you already have a strategy planned for your show, since it will change the Goal every time it is met and in this way you do not have to worry about restarting the App or things like that.
The way to configure it is to write each of the goals you want to achieve throughout your show and the amount of tokens you want to receive to make each of them. In this way, when you manage to complete your first goal, the second will be unlocked, and once you can finish the second, the third will be unlocked and so on until the end is reached.
How to configure Tip Multi-Goal App in Chaturbate
Lovense-Me
This is an App that allows you to show the levels you have configured in your Lovense Lush toy in chat. It is very useful for users to know that you are using one of these toys and keep in mind how many tokens they must give you to reach the level of vibration they want.
All in One Bot
This bot is very useful for many tasks, as its name implies, it has everything. With this bot you can establish a welcome message, you can make notifications in the chat continuously every x minutes, you can establish a tip menu, configure the King Tipper option, show the 3 users who have given the most tips in the room, among other things. To configure it you can ask your agent for help to configure it for you.
This Bot is simply to show a tip menu in the chat, so users can know what you do and the price of each thing. It is very useful for users to know what you do, and they are not asking you every so often if you do this or that.
To configure it, you only have to place in each box the price in tokens of each item followed by the thing you will do for that amount of tokens, this separated by 2 hyphens. For example, 40 – flash tits This means that if a user gives you the amount of 40 tokens, you will make a flash tits. So you can place each item on your menu, according to what you are willing to do. If you can't think of what to wear, you can see the rooms of other models to get an idea or you can ask your agent.
How to configure Tip Menu Plus 20 in Chaturbate
Set up your Chat Room
The «Biography» tab allows you to add information about yourself, where you are from, your tastes, wishes, etc. Basically you can write a description about yourself, that makes it clear to your users who you are, your tastes and above all your rules! Below you can upload photos or videos and sell them. You choose the price. They usually charge around 100 to 500 tokens per pack of video or photos, of course the price depends on the quality of these.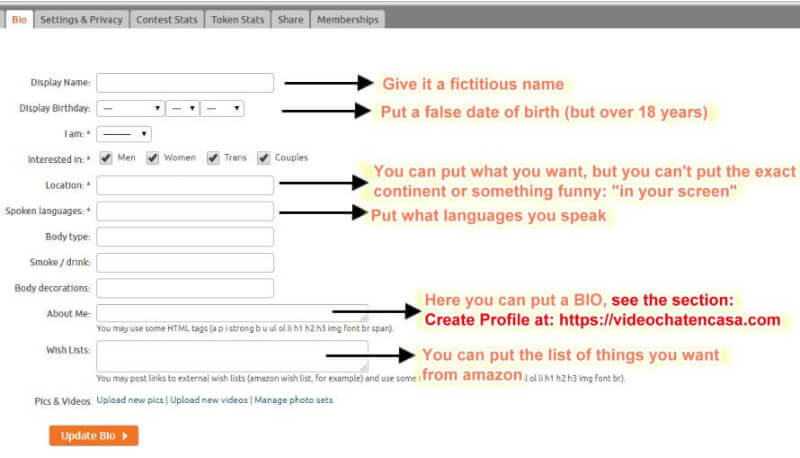 In the "Settings and Privacy" tab you can block countries, enter a password for your room, establish a fan club, and configure everything related to private shows, group shows and spy shows, among other things.
First of all select which regions you want to block (if you are working with us, surely this we will have already done for you).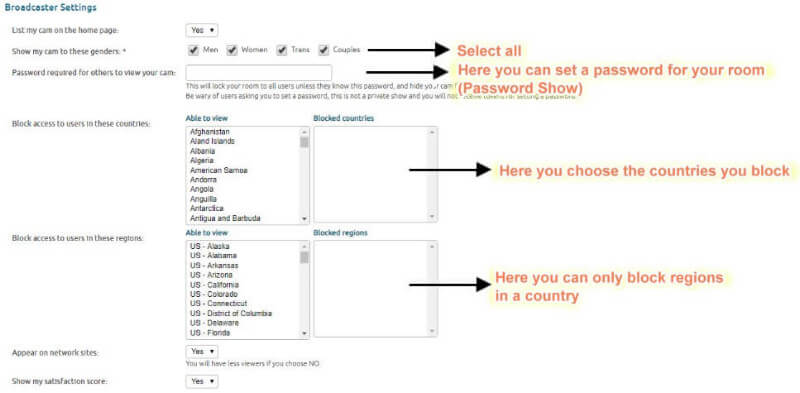 Then you can choose how much you want to charge for your private shows. You can charge up to 150 tokens per minute. Keep in mind that if you charge a lot for your private shows, less users will be interested in asking you for one. Choose a cost that is not very high (we recommend 30 tokens per minute) and if you see that there is not a lot of demand perhaps you can lower it a little or if on the contrary time that you are being very requested you can choose to raise the price to the next level.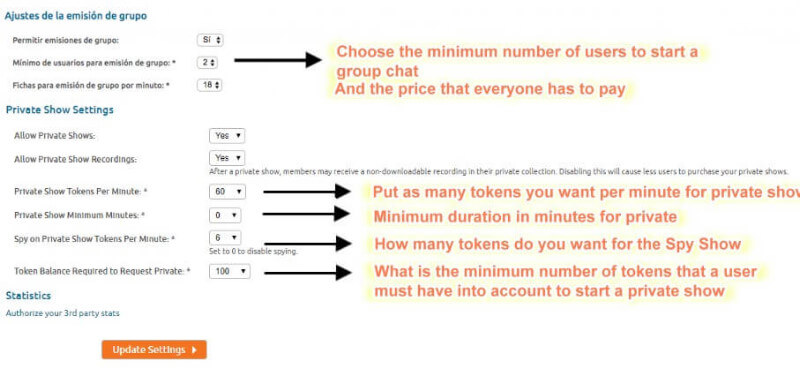 In the tab "Statistics of the chips" you will see the history of your earnings.
In the chat room, there is a configuration tab, there you can choose the color in which the users are seen, the order of them, etc.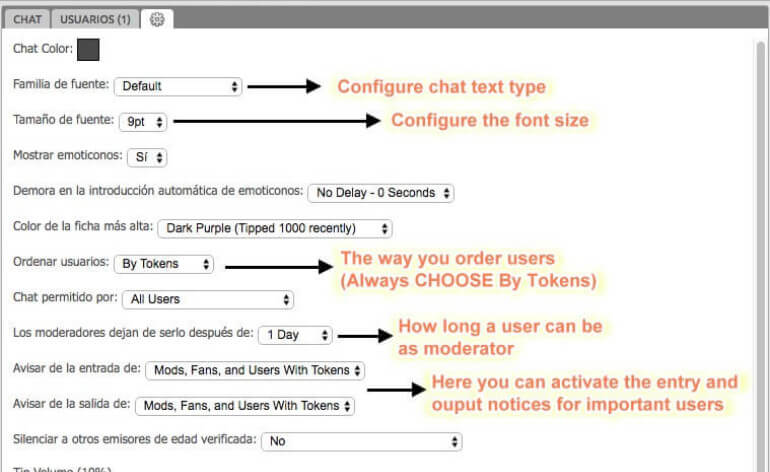 Time to start your show!
Since you have your camera well positioned and configured, your bots running and your profile well configured, you will be ready to start transmitting in Chaturbate immediately.
Once you have started your transmission, you will see that users begin to enter your chat room. Remember that color users are the ones that usually have tokens, so the most important thing is that there are users of this type in your room.
General Recommendations to Avoid Deception
Don't pay much attention to gray users: Although gray users are used to generate a volume of users in your room, it is not good that you pay too much attention to them. That is, if any gray user asks you for pm (private message), do not send it to them since you would only be wasting time. If you have many users in your room, the best thing is that in some bot you silence them by default.
Be careful with users who ask you for pm (private message): when you start transmitting for the first time, many users will ask you for pm, some will be users with tokens and others will not. When a user of color asks you, you can send it to them but you must be careful with what they ask you. If a user is sending you tokens by private message IS LIE and is trying to scam you, the tokens only appear in the public chat and make a ringing sound. What these scammers do is send you a kind of image in which they once sent tokens to another model, and thus make you think that they are giving you tokens when it is not true.
Do not accept Password Show unless you are paid first: Some users will ask you by private message to put a password in your chat room, so only the user with the password can enter your room. When they ask you for something like that, you have to charge a greater amount of tokens than what you charge in your private show. For example, if you are charging 30 tokens per minute in your private show, for a password show you will charge 50 tokens per minute. These types of shows are charged before placing the password in the room, so make sure that they have sent you the payment first.
Do not lower the prices of your private shows: There will be users who will ask you to lower the prices of your private show. If you think the price you are charging per minute is fair, then you shouldn't change it. It doesn't matter what a user tells you, if the price is fair, don't lower it. In the same way if you think that the price is somewhat high or if you see that absolutely nothing happens in the public chat and a user offers to invite you to a private show if you lower the price a little, you can do it as an exception.
Do not make any user a Moderator: Some users will ask you to make them a moderator in the room. Don't do it unless the user is a good tipper and you need to maintain some control in the room. Being a moderator is a privilege to be earned, and your loyal customers are the ones who can best play this role and the ones who deserve it the most.